MUDCONTROL - THE SOLID SOLUTION
Prices start at £7.56 per slab including VAT
£30.24 per square metre (of 4 slabs)
NO MINIMUM ORDER!
​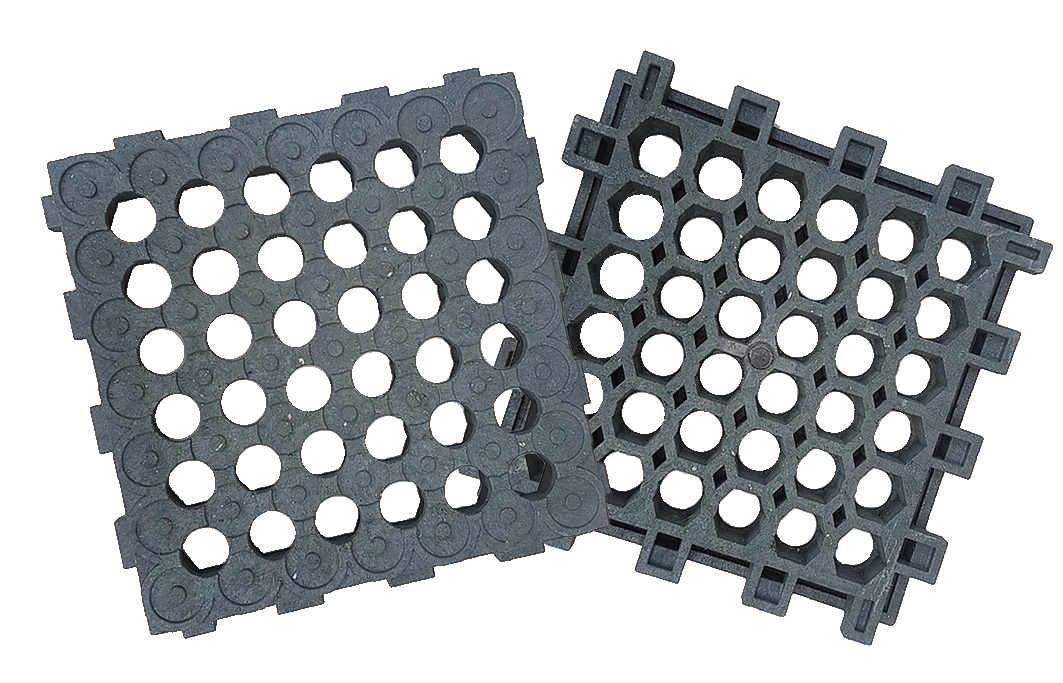 THE BEST MUD DEFENCE PRODUCT ON THE MARKET
INSTANT REMOVABLE DIY
HARD - STANDING
Our Mudcontrol slabs are a proven professional system for gateways, paddocks, pathways, parking areas, gardens, tracks, storage areas, driveways and commercial areas. No more losing the investment you made under a tide of mud, Mudcontrol slabs' unique system ensures that your slabs will give you a solid footing through any weather.
​
But don't just take our word for it . . .
THE USE OF SAND OR ANOTHER TOP DRESSING IS STRONGLY RECOMMENDED WHEN SLABS ARE USED BY LIVESTOCK
A QUICK LOOK AT OUR
MUDCONTROL SLABS
The Mudcontrol slabs measure 50cm x 50cm x 5.3cm each, weigh over 7kg each and can be used in two ways: closed (holey) side up or open (grid) side up. Both sides have their specific applications and are ideal in different situations.
Holes are 5cm (2") in diameter
The most popular position to use our slabs to create dry areas, with two types of nubs, the closed side up provides high slip resistance under wet conditions.
The open side up is ideal for putting a thicker sand or arena surface on. The grid design within the slabs will hold water and prevent the top surface from drying out too quickly.
Visit the Slabs page to explore our slabs in more detail!
WHY CHOOSE MUDCONTROL SLABS OVER CONCRETE?
We know that concrete has been the go-to product for yards, drives and paths for years, so why choose MUDCONTROL SLABS over a well known surface solution? Read on to find out...
BEFORE & AFTER
Mudcontrol slabs offer an immediate solution - you can even lay them directly on to thick, gloopy mud!
STRONGLY RECOMMENDS A GOOD FINISHING LAYER OF QUARRIED SHARP SAND OR WASHED FINE/SOFT SAND ON TOP OF SLABS WHEN THEY ARE TO BE USED BY ANIMALS
EVEN A SMALL AREA MAKES ALL THE DIFFERENCE...
Proof that even a smallish area really can make an enormous difference.
"I can't even begin to say how much of a difference these mats have made over this winter, the mud is definitely deep enough to take your welly off and never get it back, they have also been a saviour for my tb who suffers with mud fever, one of the best and most rewarding investments I have ever made."
​
A TOP DRESSING IS STRONGLY RECOMMENDED WHEN SLABS ARE FOR ANIMAL USE